Although we have driven each and every permutation of the C-Class over the past few months, our focus for this test report is the new Coupe. The figures on the specifications page (192 horsepower and 200 pounds-feet of torque) don't sound all that exciting, but the power put out by this tried, tested and improved supercharged engine is impressive; it starts producing peak torque at about 2000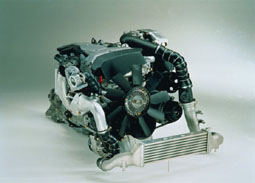 rpm and stays at 200 pounds-feet all the way to 5000 rpm. With the adaptive five-speed automatic transmission, that means 0-60 mph times of just over 7 seconds, more than enough accelera-tion to please most entry-level luxury customers.
The supercharged, intercooled four-cylinder engine makes pleasantly mechanical sounds and exhaust sounds (as opposed to noises), and it looks like mechanical sculpture under the hood. The supercharger is nearly transparent in its operation. We really enjoyed using the Touch Shift automatic, which shifts instantly up or down with a single sideways flick of the shifter and, if held in the downshift position for more than one second, computer-selects the best gear for the driving situation, shifting down as many as three gears before you know it. It's adaptive, which means, if you drive it gently, it will upshift more quickly and reward you with excellent mileage (rated at 29 mph highway); if you're constantly on the throttle, it will learn that you like to drive quickly and will hold itself in each gear for quicker acceleration performance.
The substantial weight of the C230 Sports Coupe shows up in the handling, where it feels a little bit heavy on its feet, compared to a BMW, but certainly better than almost anything domestic. The rack-and-pinion power steering, the sports seats, and the beefy steering wheel make you feel like you're in command, and if you start to lose your command of the situation, the standard ESP stability control system will put things right in a trice. The standard tilt and telescope steering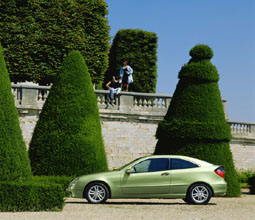 column provides an extra measure of adjustability that some cars in this class don't even offer. The tires are modestly sized Michelins, P205/55R-16, but they are relatively grippy and they are very quiet at highway speeds. A 17-inch wheel-and-tire package will be added to the option list later. All in all, really good fun to drive, and boy, did we get looks from other drivers. This thing really makes a fashion statement.
Mercedes-Benz puts as much effort into its braking systems as some makers put into their whole cars, and it shows immediately in the driving. The coupe uses large 11.8-inch front disc brakes and 11.4-inch rear brakes with electronic brake force distribution that senses when you are having a panic attack, provides extra braking, and then switches automatically into ABS mode if conditions warrant. The brakes are progressive in pedal feel, and enormously powerful in bad situations.
| | | |
| --- | --- | --- |
| | books | sponsored links |
Once a driver learns how to use the steering-wheel-mounted controls for the driver information, audio and telephone systems, there's even more driving fun to be had, with up to 50 information and programming functions available at the touch of a couple of buttons.