The Mercedes-Benz C-Class family started with the introduction of the four-door sedan late last year, featuring a brand-new 2.6-liter V6 as the standard engine and, of all things, a 6-speed manual transmission to go with it. The C240 (yes we know, it should be called a C 260 because of the new larger engine, but the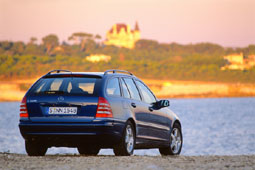 company chose to stick with a lower number) is a pretty sporty entry that's fun to drive, though it is neither quick nor fast. The volume sedan model is the C320 with its 3.2-liter V6 and automatic transmission. (A manual transmission is not available for the C320.)
A scant few months after the two sedans hit the showrooms, Mercedes showed the smallest station wagon it has ever exported to the United States, the C320 wagon, with an especially sporty three-window wagon body style with a forward-canted rear roof pillar. The wagon made to haul anything a family needs to haul, comes only with the larger 3.2-liter high-tech V6 because this engine has quite a bit more torque than the higher-revving but weaker 2.6-liter engine.
| | | |
| --- | --- | --- |
| | books | sponsored links |
Barely was the ink dry on the wagon brochures when Mercedes announced the creation of the C32 AMG, a high-performance version of the four-door sedan that uses a supercharged version of the 3.2-liter V6. Rated at 350 horsepower, it comes with a 6-speed manual transmission. The C32 AMG has its own exterior décor,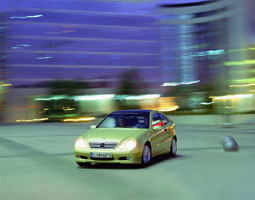 interior trim, special suspension, larger tires and wheels, and is one of the quickest and fastest four-door cars in the world. It is priced substantially out of this segment's normal $35,000-$40,000 price range at more than $50,000.
And then, to create serious buzz among the younger American buying public, Mercedes introduced the last model in the family only a few weeks ago, the C230 Coupe, with a supercharged 2.3-liter 4-cylinder engine, a sportier chassis, a completely new front end appearance, and a radical roofline. What's more, the C230 Coupe is a hatchback, the first such design in the company's history, offering a nearly unbeatable combination of price ($24,950), utility (nearly 40 cubic feet of storage space with the rear seats folded down), and visual impact.