The Mercedes-Benz CLK is a luxury coupe you can drive hard without even realizing it. The chassis has the kind of stiffness Mercedes has only graced its SL Roadsters with in recent years. Torsional rigidity has increased a very welcome 40 percent compared to the pre-2003 CLK.
In mixed driving along a stretch of Detroit's Woodward Avenue that varied from 1900-style brick to pool-table smooth asphalt, the CLK's suspension swallowed the unpleasant bumps without complaint while communicating steering input fluently back to the steering wheel. A few miles north of downtown Detroit, on the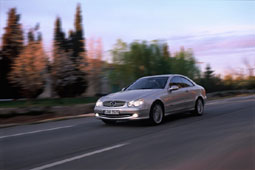 winding lakeside roads of Oakland County, the car handled curves at speed with the easy grace of a thoroughbred horse stretching out in the home stretch.
The CLK's front suspension combines two low-mass lower control arms with a strut, coil springs, dual-tube shocks and a stabilizer bar. Mercedes chose to use the two lower control arms to improve impact absorption for better wheel control and damping. The rear sus-pension is the latest refinement of Mercedes proven multi-link design. It has been tuned for improved absorption of vibration and more predictable handling when driven hard. The CLK has very little squat or dive during hard acceleration or braking.
Another welcome improvement to the new CLK is the addition of rack and pinion steering. It was the last Mercedes car to abandon the automaker's old recirculating ball system, and the steering response and feel are a massive improvement over the previous model.
| | | |
| --- | --- | --- |
| | books | sponsored links |
Mercedes continues to improve its ESP electronic stability program. In the CLK, the system is virtually transparent, intervening unobtrusively to prevent wheel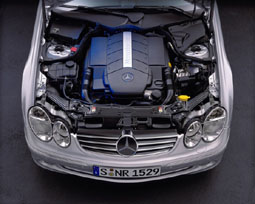 spin, but without the heavy-handed reduction in power that marred some of its early applications.
The Mercedes V6 and V8 engines perform admirably and both benefit from a 5-speed automatic transmission. The 215-hp CLK 320 has all the power most drivers will ever really need, accelerating ably from a stoplight and driving the car smoothly through the gears. The 302-hp CLK 500 is a refined German muscle car, offering pin-your-head-back acceleration with barely any deterioration in handling due to its greater weight. The 5-speed automatic offers a TouchShift manual shifting mode.