Mercedes is openly envious of the brisk sales of the sportier BMW 3-Series and sees new challenges from Lexus and Lincoln. Mercedes is going back to the sporty part of its tri-star heritage, and the C-Class reflects there are still some enthusiasts in the design department.
Both models are powered by new V6 engines. C240 gets spirited performance from a 2.6-liter V6 rated at 168 horsepower and 177 foot-pounds of torque. C240 comes with a great 6-speed manual transmission, and a 5-speed automatic is optional. C320 uses a 3.2-liter V6 that develops 215 horsepower and 221 foot-pounds of torque. The C320 can accelerate from 0-60 mph in an impressive 7.1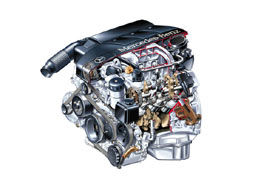 seconds with its automatic transmission. Even the C240 clocks in at 8.2 seconds (with the standard transmission), about as quick as the more expensive Lexus ES 300.
Most C-Class models will come with the five-speed automatic; it offers Touch Shift manual gear selection, eliminating the need to operate a clutch. Touch Shift allows the driver to manually select all five forward speeds by pushing the gear lever left to downshift or right to upshift while in Drive. It isn't necessary to move the lever to another gate to make manual gear changes. This is a completely natural motion, and allows the driver to easily shift. We don't normally associate a manual gearbox with a Mercedes sedan, but the six-speed manual in the C240 adds sports appeal to this car. Throttle response is always right there.
It's hard to make a luxury car handle well; it's probably easier to make a sports car luxurious. Mercedes has done a good job with the C-Class. Handling is crisp, yet the ride is not harsh in any way. BMW will not worry about losing some of its true enthusiasts, but a lot of cross-shoppers will find the Mercedes ride more to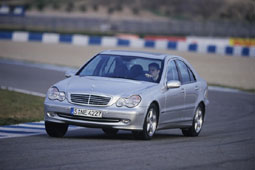 their liking. The C-Class cars are smooth and extremely stable at high speeds.
C-Class uses a multi-link independent suspension fore and aft similar to what is found in many sports cars. Enthusiast drivers will appreciate its rear-wheel-drive layout, not found on cars from Lexus, Acura, Volvo, and Cadillac. In the past, there may have been some benefit to front-wheel drive in adverse traction conditions; with the advent of anti-lock brake systems (ABS) and electronic traction control, however, some of the advantages of front-wheel drive have been neutralized. With new-generation electronic stability programs (ESP), rear-wheel drive can overcome skid conditions that normal front-drive cars cannot handle. Active safety is an often-overlooked feature of total vehicle safety and it starts with making the driver feel comfortable and in control. Active safety measures on the C-Class include ABS, Brake Assist, traction control, and an Electronic Stability Program.
Brake Assist allows the driver to modulate the brakes in normal situations, working just like normal brakes. But when the pedal is depressed very hard or very quickly, Brake Assist goes into a maximum-stopping mode, reducing stopping distances. Under less critical conditions, the ABS and disc brakes work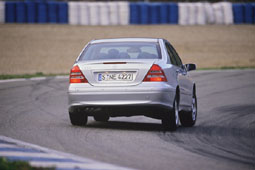 commendably; the C-Class cars are very stable under hard braking, even when braking and turning at the same time.
Electronic Stability Program (ESP) calculates the car's path through a turn; if it detects a difference between the actual path and the one the driver is trying to achieve with the steering wheel, then it applies selective braking at one of the wheels to put the car back onto the driver's intended path. It works great and can help prevent an accident. However, the system can be objectionable if you're on a race track or trying to drive aggressively. Fortunately, it can be switched off. Even with the system switched off, the car responds predictably with a bias toward understeer at the limit (the front wheels lose traction before the rear wheels), which makes it easy to drive.
| | | |
| --- | --- | --- |
| | books | sponsored links |
A sport package is available for drivers who want a little more edge in their Mercedes, with higher-rate springs, shocks, stabilizer bars, larger tires and alloy wheels; the package also includes sport seats and leather upholstery. The suspension tuning provides more feedback to the driver and enhances response.