To drive the Mercedes SL500 is to experience a level of technical sophistication found in few other cars at any price. And this sophistication can be enjoyed without consulting the manual. Just put it in Drive and let the systems work their magic for you.
The V8 engine in the SL500 is strong, smooth and quiet. Acceleration performance is rapid for a 4000-pound car with 300 horsepower, but not
breathtaking. The SL500 is capable of accelerating from 0 to 60 mph in about 6.1 seconds. That's quick, but not as quick as a Porsche 911 Carrera or Chevrolet Corvette. The SL500's 5.0-liter V8 engine develops 302 horse-power. Peak torque of 339 pounds-feet is available from 2700 to 4250 rpm, and 295 pounds feet is on tap from just 2000 rpm. That flexibility is designed to give it quick response at all engine speeds.
The TouchShift five-speed automatic transmission is much improved over the last generation, with nearly imperceptible shifts up or down. Holding the selector toward the left causes the transmission to shift down to the optimal gear. On downhill sections, the driver can downshift for engine braking.
Automatic Body Control lets the SL corner with authority, even though the P255/45R17 tires are much smaller than those on the Corvette, Viper or Porsche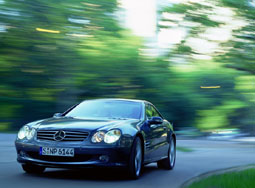 911. A dashboard switch lets the driver limit body roll even further, while still delivering a silky smooth, quiet ride. Electronics dominate the SL500 landscape: electronic throttle control, antilock braking with electronic brake force distribution, electronic traction control and electronic stability control. These systems have been added to other Mercedes-Benz products in recent years, but the SL500 breaks new ground in the form of the world's first fully electronic braking system. If it didn't do anything else well, and it most certainly does, the SL500 would have to go down in history for this development alone.
| | | |
| --- | --- | --- |
| | books | sponsored links |
| | | |
| --- | --- | --- |
| | | |
The marvelous new electronic braking system runs on very high pressure, but the pedal feels normal no matter how hard you stop, and the ABC suspension won't let the car take a nosedive. Drive on any mix of tarmac, gravel, mud, water, ice or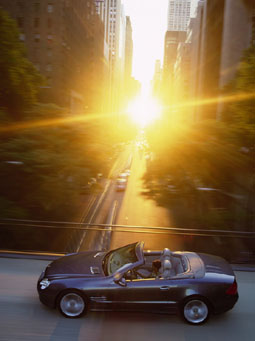 snow and the onboard systems keep the car on the straight and narrow with very little driver input. After five or six hours of fast driving on challenging roads, this car will make you feel like one of the masters of the universe. It's that good. It doesn't have the gut-level reactions of a Viper, Corvette, or Porsche, but the SL is far more comfortable and luxurious than any of them.
While the pedal feels perfectly normal under all braking applications, the system works quicker and faster than ordinary hydraulic braking systems and can proportion braking effort to each of the four tires depending on traction and yaw conditions, working hand-in-hand with the ABS, traction and stability systems as well as the standard active suspension system which Mercedes calls Automatic Body Control (ABC). These electronic features mean that this SL500 will corner and brake faster and harder and flatter than any previous SL while providing a huge envelope of protection against driver error and changing traction conditions.